For children from low-income families and orphaned children in institutions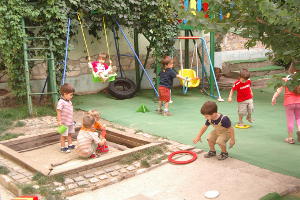 Children of orphans - A number of Good Samaritan's orphan clients now have children of their own. While this offers them the joy of creating the family that they never had, it also can magnify their struggles. Due to the compact social network of their parents (mainly only fellow orphans), these children have limited opportunities to interact with other children in town. Furthermore, providing full-time care for their children also limits our clients' opportunities to work, continuing the cycle of dependence.
We would like to offer support to pay for kindergarten/daycare. In this program, the supported children will be given the opportunities to develop their learning capacity by being taught by professional teachers and according to the state school program, will be provided with two meals per day, but most importantly they will be granted the chance to interact with children from all social classes and be exposed to other role models. Additionally, their parents can extend their network of friends and use the free daily time to work.
COST
$50 USD/month $ 550 USD per school year
Partnership between Good Samaritan Beius, Romania and Home for Everyone Foundation - Sofia, Bulgaria
We are aiming to help orphans from the state placement centers to go to a local kindergarten rather than spend all their time in the institution. In the new environment they can make friends with the children from town as well as have access to a higher quality preschool education. This means better trained and motivated educators, much better equipped classrooms, access to different classes in music, dancing, languages, etc.
COST
$120 USD per month pays the attendance of a child at the kindergarten: it covers only food as the rest of the expenses are subsidized by the kindergarten