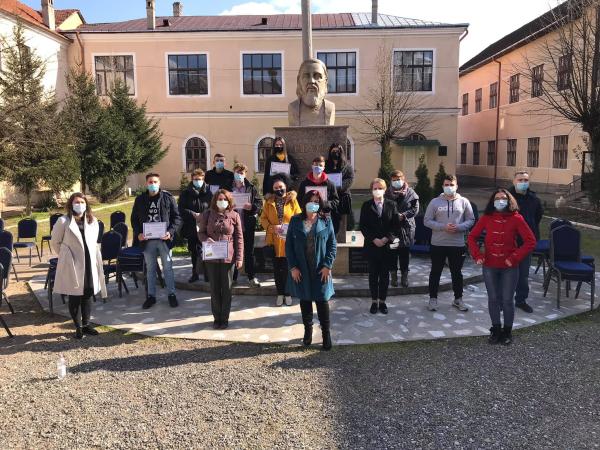 Beiuș, 24.03.2021 - The best children of Beiuș - in fact, of the schools of Beiuș, of the entire south-eastern region of Bihor, because they come from different villages, besides the municipality which lies on the on Crişul Negru river, were awarded on Saturday afternoon, in compliance with the rules of physical distancing, in the open air, in the courtyard of the Samuil Vulcan National College from Beiuș.
The novelty of this 11th edition of the merit scholarships generated by graduates from different old generations was that the event took place only once, in one place, outdoors, for logistical and health safety reasons. "It is the first time that all schools are together. It is a moment of unity. " Nikolina Ciorna, manager of the merit scholarship program at the Good Samaritan Association, pointed out. Until now, scholarships were awarded during the end of year festivities, however in June 2020 these festivities did not take place due to the pandemic. It was essential that at least these children who have won olympic awards in different subjects to receive this recognition after a lot of work but without the traditional closing ceremony, banquet or serenading at teachers' homes.
The principals of three schools were present, Mrs. Prof. Dr. Monica Cândea, host, deputy director of CN Samuil Vulcan, Mr. Prof. Dr. Lucian Ropa, director of LVP Nicolae Bolcaș and Mrs. Prof. Claudia Cighir, director of CT Ioan Ciordaș who each gave a speech.
The scholarships of 1,200 RON per high school student were accompanied by a diploma and each graduate (now first year university students) had the opportunity to give a short speech, as well as the coordinating teachers.
All the scholarship holders were glad that God allowed a beautiful day but also that Beiuș was in the green scenario of pandemic conditions, so that they were able to receive their awards.
Scholarships are named after former teachers, now deceased, who have educated generations of students in these schools. For example, in mathematics, prof. Ban T. Florian scholarship at the National College "Samuil Vulcan" or prof. Pelea Petru scholarship at the Nicolae Popoviciu Secondary School. At the grade 8 level, the amount of the scholarship is 600 RON. In case of a tie, at high school, 2 students can share a scholarship.
Adrian Ciorna, founder of the merit scholarship program with his colleagues from the 1985 class from CNSV school, evoked the physics teacher Cornelia (Quai) Tabără, and the scholarship that bears her name but also the contribution of the forerunners of her Italian family, Quai , who built parts of the high school, the Greek Catholic Episcopal Palace, the Girls 'School (which later became the orphanage) or Pavel Street, known as the Teachers' Street. Mrs. Tabără, the last 5 years of her life, sponsored the physics scholarship from her pension. "When I was a schoolboy, there was a competition between students, everyone who knew the answer would raise their hand, wanted to be first, and even shouted" Me, me!" trying to get the teacher's attention." explained Adrian Ciorna. This also influenced the idea of ​​merit scholarships in 2010. The spirit of competitiveness. As Adrian Ciorna awarded the English merit scholarship to student Darius Tîrșar (coordinating teacher Melania Egyed), he underlined that he had a special pleasure in awarding this scholarship as he himself succeeded in achieving first place at the same county level Olympics when he was in the 7th grade.
Carla Herlo, a former "Running for a Cause" scholarship created by Remus Sime, who is now a student of Architecture in Timișoara at the Polytechnic University, was a unique presence. "We also contributed as a donor to these scholarships because it is important not to forget the example of the people who helped us." she said in a message to those present. Carla, as a student at CN Samuil Vulcan in the past, also won the French scholarship 'prof. Cornelia Sabău'. The emotions of the scholarship students were great, as were those of their teachers. A total of 19 scholarships were awarded. The winners were:
"Samuil Vulcan" National College
Mathematics (M2) prof. Ban T. Florian – Toc Georgiana Anamaria (sponsor SC Termoline Cercetare - Horia Ban)
Romanian Language and Literature prof. Milan Martinov (secțiunea A)- Incer Maia (sponsor Vladimir Martinov),
Romanian Language and Literature prof. Milan Martinov (secțiunea B) – Bara Maria (sponsor Vladimir Martinov),
Physics prof. Cornelia Tabără – Hartmann Mircea Alexandru (sponsor Francisc Papp),
Social Sciences (economics) prof. Gavril Hădăreanu - Hartmann Mircea Alexandru (SC Bilancia Consulting SRL – Gheorghe Agud, Cosmin Duma, Jurj Bogdan) ,
Applied Informatics Marius Moisescu – Popa Cristian (sponsor SC Termoline SRL-Horia Ban),
English Language prof. Maria Racolța – Tîrșar Darius Vlad (sponsor Florica Ușvat),
History prof. Constantin Duma-Suceveanu – Blidar Dumitru Cristian and Iștoc Adriana (sponsor Șerb Florian),
Orthodox Religion Traian Dorz – Ile Ioan Alexandru (CMI Todor Bianca Ioana, Viorica Dinita, Cosmin Duma, Roxana Dan),
Music prof. Mihai Pop Bruchenthal – Mihoc Alin-George (sponsor SC Monbris SRL-Marcel Briscan)
"Samuil Vulcan" National College (8th Grade)
Mathematics prof. Alexiu Ardelean – Bogoșel Filip Daniel (SC Evalstar SRL and fam. Lionel și Dana Mischie)
"Nicolae Popoviciu" Gymnasium School
Mathematics prof. Petru Pelea – Popa Maria Mădălina (fam. Pelea Cătălin and Diana)
"Ioan Ciordaș" Technical College
Mathematics (M2) Generația anilor '90 – Șandor Raul-Marinel (sponsor Adrian Popa, Tibor Feneși, Iulian Sferle),
Food Industry Silvia Degău – Bogdan Ana-Maria (sponsor Ioan Degău),
Eonomics Ioan Degău – Foncea Răzvan Ionuț și Laza Andreea-Ioana (sponsor Ioan Degău),
CAD Modules prof. Sabin Indrei – Cocoș Sebastian-Nicușor (sponsor fam. Bacoș Florin și Daniela)
"Nicolae Bolcaș" Pedagogic Vocational School
Mathematics (M1) prof. Eugenia Lezeu – Toma Adrian (sponsor teachers LVP "Nicolae Bolcaș"),
English Language prof. Grigoraș Ioan – Hanza Rareș Petru (sponsor Cristian Hoble),
Economics and Pyshology prof. Gavril Hădăreanu – Coș Bianca Ioana (sponsor SC Monbris SRL-Marcel Briscan)
The total value of scholarships awarded: 21. 600 lei
A sign that the teachers are valued and recognized by the award-winning Olympians are the words of Mircea Hartmann, winner of the physics scholarship (along with the social sciences-economics), who said as he received his awards: "Thank you to teachers, especially Mr. Rus Ilie, of Physics, as if it wasn't for him in the sixth grade to force me to go to the Olympics, maybe I wouldn't have found my way in life. I am currently a student at the Faculty of Physics, Babeș-Bolyai University and I owe everything to him." For the former graduates from the founding class of 1985, for the other donor graduates, for the Good Samaritan Beiuș association as project administrator, Mircea's words are the certification of connecting with the school's past, with the old teachers, of a new generation of young graduates hope for the future of his program.
More photos can be viewed here: https://www.facebook.com/bunulsamariteanbeius/posts/4377744478906625