"Investing in the education of young people is a sure way to improve our future and that of Romania" - Remus Sime, the founder of Alerg pentru o Cauză (Running for a Cause).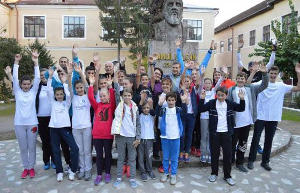 This autumn brings us the 5th edition – a jubilee edition of our event. Between the 17th and 18th September 2016, Remus Sime together with Good Samaritan are organizing a new race - the relay route of 200 kilometres between Timisoara and Beius.
The relay will start on the morning of Saturday 17th September in the Botanic Park in Timisoara and will end on Sunday afternoon, 18th September in the centre of Beiuş.
The route is divided into shifts of 5 kilometres, to give a chance to everyone who wants to support the project, to run with us for scholarships.
Each supporter can choose to run one or more relay stages and encourage their friends to support them, donating to the project. Fundraising runner can sign up on the website www.alergpentruocauza.ro
Since 2012, Remus has run impressive distances in an attempt to raise funds and bring to the public attention, the situation of students from National College "Samuil Vulcan" Beius, who come from poor families but who succeed in getting very good results at school. In 2012, he dedicated the marathon in Vienna which he ran in 3 hours and 20 minutes, to those children. Then in 2013, Remus ran 200 km from Timisoara to Beius over 4 successive days, running 50km per day. In September 2015, Remus along with partners from Good Samaritan, mobilized over 25 runners to run the relay in 5km stages. Even children like Elena Ciorna who is 8 years old, ran and raised money which resulted in scholarships for 18 children! Over the next 2 months, be a good Samaritan and volunteer or donate for the cause of these valuable students!
This autumn we hope to be fruitful and to gather the necessary funds for scholarships for many "Samuil Vulcan" students who have an average mark of over 9 and a delicate financial situation at home. The 5th edition, a jubilee, brings with it new scholarships for graduates from "Samuil Vulcan" who need help to go to university!
Sponsor a friend today! Sign Up to Run & Fundraise! Read more about APOC