Some stories in life are sad. This one had a beautiful beginning, with a young family that was blessed by God with the gift of a child. With God's help and yours, we hope that this story will have a happy ending.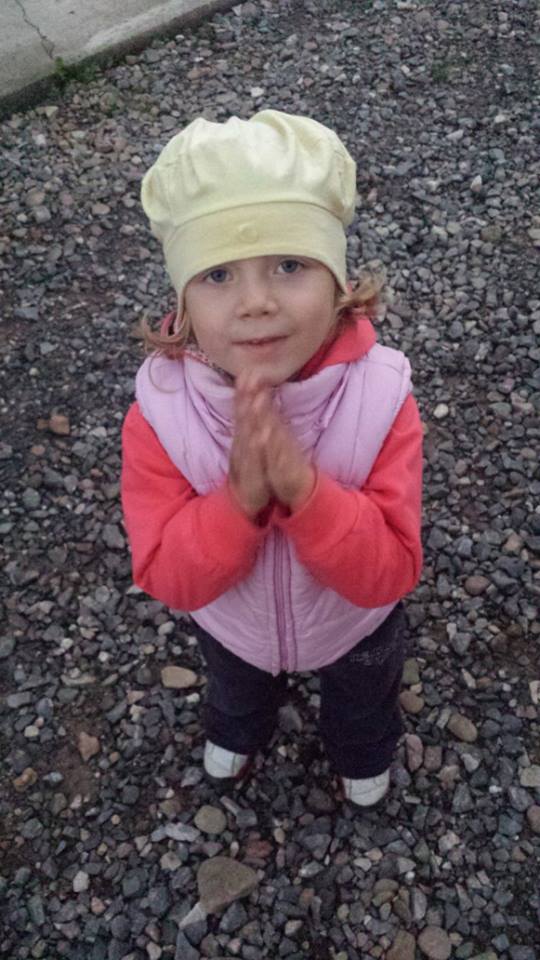 On 23rd February 2010, Ionut and Claudia Toma's family received a wonderful gift of a baby girl as their daughter, Andreea Antonia was born. She's a beautiful little girl with blond hair and blue eyes, full of life and hope. Unfortunately at just 3 years old she was diagnosed with cancer (a tumor in the head, common B cell acute lymphoblastic leukemia <CD 10, CD 19 pos> with determination brain <infiltrates intracerebral and meningeal>). She's already had surgery to remove the tumour and is now receiving the specialist treatment recommended by doctors.
This family is now living a drama. Their child is in hospital for a few months, taking treatment and fighting with all her strength against this disease. It's so much for her.
In the same way, Andreea's parents Ionut and Claudia are also living a drama. Seeming powerless in the face of such a diagnostic, they don't know how they have taken such a strong hit. They are a family with a modest income, in fact a small income, Ionut works in the furniture factory and Claudia in a show factory. Not only are they dealing with the pain and inability of being able to help their sick child, they are struggling with day to day living and all that is involved with travel to the hospital in Oradea, 60 km away. Claudia will take 'leave for caring for a sick child' so that she can be a personal assistant to Andreea. They are in great need…. but they're not asking for anything in return, but are extremely grateful for anyone who gives them an outstretched hand. Their monthly costs are so much more than their financial possibilities. Imagine the life of a family which is living between hospital and home. Imagine how it is as one parents stays with the child in hospital and the other is travelling to and from the hospital, home and workplace.
On the 5th March 2014, Andreea's parents Ionut and Claudia asked for the support of Good Samaritan in taking on the administrative responsibility of this project. Anticipating that in the medium and long terms that this is the most healthy, profession and stable, least stressful and transparent way of administrating the medical project and the complex relationships involved.
Good Samaritan has existed for 20 years in Beius and has collaborated in the past with the Ionut and Claudia, ensuring funds necessary for land for a Habitat house in which the family lives as well as other specific help and to Claudia through different programs which Good Samaritan runs. Good Samaritan will provide specific information about the case and the ongoing medical project and will present reports to sponsors, donors and the general public who are interested in Andreea's health.
Both parents, Andreea and Good Samaritan Beius would like to thank all those who have helped so far and invites all donors, future sponsors and all those who have enthusiastically rallied support for this case to please contact Good Samaritan regarding any ongoing or future initiatives.
With deep appreciation, Ionut, Claudia and the Good Samaritan Beiuş team.
Many thanks
Contact information:
E-mail: info@goodsamaritan.ro

Tel. mobil: +40-720-642238 (Nikki Ciorna)
www.goodsamaritan.ro
For donors and sponsors, you can transfer Romanian lei into a special account that has been opened for the medical project dedicated to Andreea:
Bank details (Romanian lei):
Account name: Asociaţia Bunul Samaritean Beiuş
Bank: BCR Sucursala Beiuş
Account: IBAN RO34 RNCB 0034 0218 0285 0010
Donations in Euros / Pounds / Dollars
In the case that you wish to transfer money in Euros, Pounds or US dollars, please see our bank details on our donations page and when you transfer any money, please specify that it's for "The Andreea medical project"