In its 7th edition, the relay "Run for a Cause" has become a tradition and this year has generated the resources for 16 merit based and social scholarships with each having a value of 1200 lei.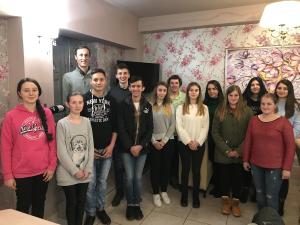 As such, on Thursday 14th February, 16 students from the 'Samuil Vulcan' National College in Beius, received the first two instalments worth 800 lei and in April they will receive the last instalment of 400 lei. These hardworking students all have average marks of at least 9/10 during the previous school year and their families have modest incomes.
"First of all, this scholarship encourages me to learn even more. It helps with the costs of books and transport. Thank you to all the donors and volunteers runners, and although at first sight it may not seem to be of great help, be sure that these scholarships help us a great deal, as no one else encourages us." said Ioana Budău, one of the scholarship students in the 11th grade. Together with Ioana, a further 15 students received scholarships: Maria Culda, Mircea Hartmann, Andreea Culda, Johanna Boros, Darius Bîte, Paula Flonta, Georgiana Tuleu, Florina Jude, Daniel Pojoca, Ioana Galea, Daiana Jurca, Alexandru Ile, George Mihoc, Emanuela Sferle and Adriana Isoc
During the relay, Remus Sime, the founder of the project, noted with satisfaction that the number of volunteers from Beiuş had grown significantly. He ran some of the stages of this 7th Edition relay from Timișoara la Beiuș. A special runner was Mihaela Ilieş, the director of the school, a sign of the institutional value of the scholarship program.
"I consider that these scholarships have a large impact on this growing community of school students, university students and then professionals who we encourage not only financially but also strengthen them in the belief that through work, seriousness and integrity, they can succeed in life," says Nikolina Ciorna, vice president of the charity Good Samaritan, manager of the scholarship program.
Remus Sime and the charity note the appreciation of former generations of scholarship students who already contribute financially or raise funds for scholarships, among them being Alexandra (Laza) Lukacs and Laurenţiu Ardelean. "I kept my word, I came back to run and to donate" said Laurenţiu, a first year student at UBB Cluj who is planning to be involved in the future as well. He ran together with his mother and younger brother.
Those who wish, can continue to donate and participate in future editions of the race.