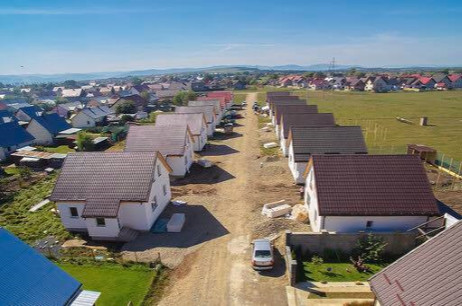 2017 found us fully immersed in building 15 homes in partnership with needy families in Radauti, Northern Romania, and, year 2018, contributing to some finishing as well with the local partner charity, HPU Radauti. Only year 2009 was close in size as of involvement with poverty housing, in the Beius project dedicated to orphans, counting 10 units. A large effort with a great cooperation with the local community joining in to help!
On and off, we did housing projects over the 25 years of existence, starting with offering shelter for weeks or years to homeless orphans on our premises, continuing with offering financial support for rent and ending with the most comprehensive intervention, new home construction. Going all the way to Radauti and partnering to help families in need inspired us to do more on poverty housing. A home is the dream of us all and of poor, low income, disenfranchised families all the more. Donors and volunteers can come and join in 2019 at different venues. One just needs to contact us.
But the most important housing initiative for the coming years is the Centennial Initiative, launched in Alba Iulia on December 2nd, at the celebration week-end of 100 years since Greater Romania was formed, following World War I. This initiative includes the building of 100 homes in partnership with the needy families and local communities across all historic regions of Romania and in the global diaspora, where Romanians live, beyond its borders. It is a means to both help those in need and exercise unity in helping one another.
It comes to my mind the mother of 7 near Beius, husband in jail, living in a one room unit without door in a poor village near Beius, no insulation, bad windows and mud floor that knocks at our door for help, the homeless from the republic of Moldova seeking refuge in Romania or the toothless, minimum wage father from Serbia with no future for his family. All of them craving for a basic, warm, safe, modest home. With the Centennial Initiative, all of them may be among the beneficiaries of one of the 100 homes projected. Please join us in 2019 and beyond for this project!
Each of these homes will have a special mark and is meant to be a witnessing tool and inspiration to the future generations that when united, we can build a future where our less fortunate neighbor can be better off and live decently and that when people get together in unity, our community, country and the world can be a better place.