Some stories in life are sad. This one had a beautiful beginning, with a young family that was blessed by God with the gift of a child. With God's help and yours, we hope that this story will have a happy ending.
On 23rd February 2010, Ionut and Claudia Toma's family received a wonderful gift of a baby girl as their daughter, Andreea Antonia was born. She's a beautiful little girl with blond hair and blue eyes, full of life and hope. Unfortunately at just 3 years old she was diagnosed with cancer (a tumor in the head, common B cell acute lymphoblastic leukemia <CD 10, CD 19 pos> with determination brain <infiltrates intracerebral and meningeal>). She's already had surgery to remove the tumour and is now receiving the specialist treatment recommended by doctors.
This family is now living a drama. Their child is in hospital for a few months, taking treatment and fighting with all her strength against this disease. It's so much for her.
In the same way, Andreea's parents Ionut and Claudia are also living a drama. Seeming powerless in the face of such a diagnostic, they don't know how they have taken such a strong hit. They are a family with a modest income, in fact a small income, Ionut works in the furniture factory and Claudia in a show factory. Not only are they dealing with the pain and inability of being able to help their sick child, they are struggling with day to day living and all that is involved with travel to the hospital in Oradea, 60 km away. Claudia will take 'leave for caring for a sick child' so that she can be a personal assistant to Andreea. They are in great need…. but they're not asking for anything in return, but are extremely grateful for anyone who gives them an outstretched hand. Their monthly costs are so much more than their financial possibilities. Imagine the life of a family which is living between hospital and home. Imagine how it is as one parents stays with the child in hospital and the other is travelling to and from the hospital, home and workplace.
Born in February 1979, Ferencz Mândruț was raised in the Beiuș local state orphanage of 750 with the goods and many bads that are known now to the general public and to many of his friends in town, country and abroad. While in the institution, he was told he cannot be funded for attending the music school in Cluj Napoca and ended up in the local vocational school doing a waiting tables apprenticeship. He ended up on the streets of Beiuș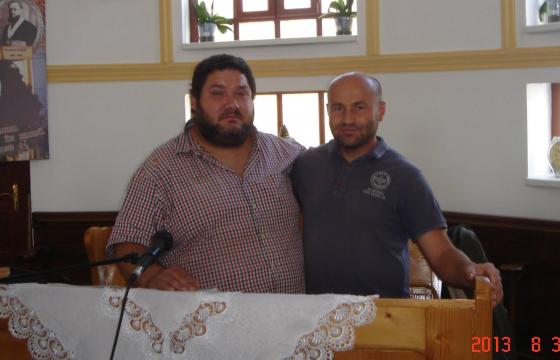 in December 1996 (he was under age of 18 at the time) where he spent 2 years. In the winter he was sleeping in the cellar under the former public library or the hall of the same facility now owned by a local church, with cardboard as his bed and his winter coat as a pillow. During the summer he slept behind a wardrobe, on the open air corridor way (patio) of the same building. With certain humor he accounts his baths taken in the local river for personal hygiene. Good Samaritan helped him with jobs for several years between late 1998 and 2006.
Situation of Mândruț to date – Many know his overweight issue. In October 2015 dr. Puia of Cluj-Napoca saw Mândruț and recommended bariatric surgery (stomach reduction- sleeve surgery- ). The medical check-up advised for surgery otherwise he is under life threat with the constant weight gaining. Mândruț has other medical issues: heart, diabetes, tyroid gland and bone issues due to overweight. He is under treatment for weight loss and is scheduled on January 18th for surgery in Cluj with a couple of days in hospital.